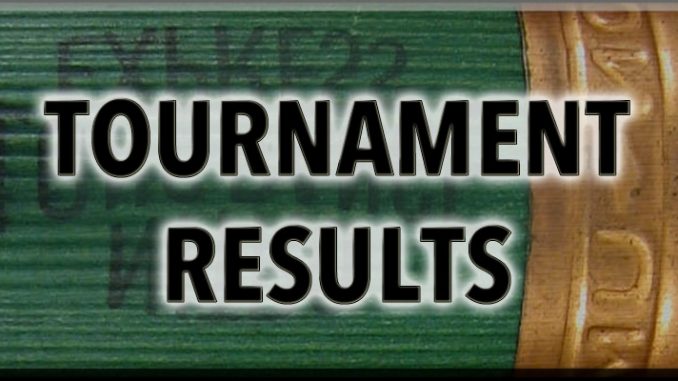 In the inaugural season of the new Division 1 and Division 2 Championship format, four teams survived the grind and the low scoring conditions of the Tower of Pisa lane condition and punched their ticket to the NYS Championships on the weekend of March 10th-11th at the OnCenter.
ESM and Camden emerged as the winners on the Girls side.  Camden got off to a quick start in Division 2 girls, and led wire-to-wire, besting the field by 257 pins.  Camden was led Kylee Long's 1029 6-game total and Erin Bourgeois' 964 series.
ESM fought off a tight field in the girls Division 1 group but emerged the winner by 120 pins.  ESM was led by Haley Youker, who was the high Individual for the day.  Youker rolled a 1318 6-game total, schooling the rest of the field (both boys and girls) by over a 100 pins.
For the Boys, it was Fulton and Little Falls claiming Division 1 and Division 2 crowns.  Fulton, led by tournament leader Bradley Martin's 1209 6-game total, claimed the lead after a 997 game 2 and never looked back.  Fulton claimed both Class 'B' and Division 1 Titles by convincing margins, both in excess of 200 pins.
Little Falls, the inaugural Division 2 winner, posted 2480 morning block total, trailed by 22 pins heading into the afternoon block.  LF seized a small lead after an 806 game 4 on the low scoring lane conditions and then dropped the hammer on the Division 2 field by closing out the block with games of 934 and 906 to account for the final margin of 196 pins.
Complete results can be found at http://www.section3bowling.com/2018-results/
GIRLS RESULTS
GIRLS DIVISION 1- TOP 3
ESM 4988
RFA  4868  -120
AUBURN 4867 -121
GIRLS DIVISION 2- TOP 3
CAMDEN 4619
NEW HARTFORD 4362 -257
HOMER 3940 -679
GIRLS CLASS 'A'
RFA 4868
AUBURN 4867 -1
LIVERPOOL 4858 -10
GIRLS CLASS 'B'
ESM 4988
CAMDEN 4619 -369
FULTON 4441 -547
GIRLS CLASS 'CD'
CLINTON 3823
ADIRONDACK 3807 -16
HOLLAND PATENT -154
GIRLS HIGH 6 SERIES
HALEY YOUKER (ESM) 1318
MEGAN GUERNSEY (FULTON) 1157
TRINITY DROZDZ (CNS) 1084
GIRLS HIGH GAME
ASHLEY HARDY (LIVERPOOL) 232 *
AMERICA CARHART (ESM) 219
TRINITY DROZDZ (CNS) 215
*Awarded Medal
BOYS RESULTS
BOYS DIVISION 1
FULTON 5503
BALDWINSVILLE 5295 -208
ESM 5237 – 266
BOYS DIVISION 2
LITTLE FALLS 5127
SAUQUOIT 4931 -196
VVS 4904 -223
BOYS CLASS 'A'
BALDWINSVILLE 5295
CNS 5225 -70
UTICA-PROCTOR -112
BOYS CLASS 'B'
FULTON 5503
ESM 5237 -266
WHITESBORO -440
BOYS CLASS C/D
LITTLE FALLS 5127
SAUQUOIT 4931 -196
SHERBURNE 4612 -515
BOYS HIGH 6 SERIES
BRADLEY MARTIN (FULTON) 1209
TANNER ROZCYKO (BALDWINSVILLE) 1200
NICK SANTA CROCE (PROCTOR) 1184
BOYS HIGH GAME
NICK SANTA CROCE (PROCTOR) 258
COLIN PONTO (BALDWINSVILLE) 253
SEAN TIMMONS (ESM) 246
Girls Class 'A'
 – RFA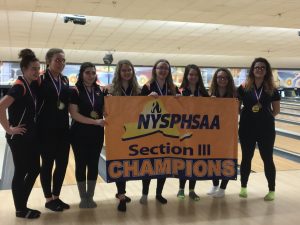 Girls Division 1 and Class 'B' – East Syracuse Minoa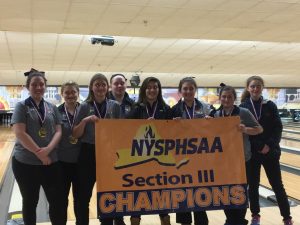 Girls Division 2  – Camden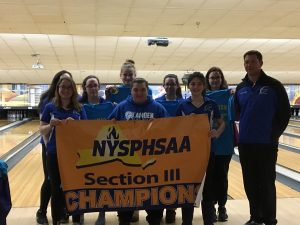 Girls Class 'C/D' – Clinton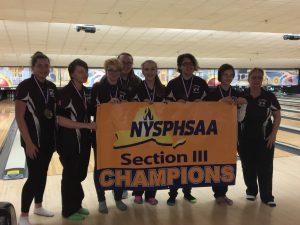 Boys Class 'A' – Baldwinsville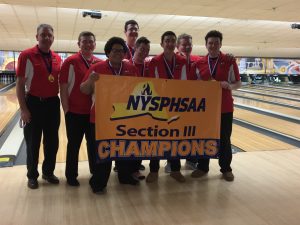 Boys Division 1 and Class 'B' – Fulton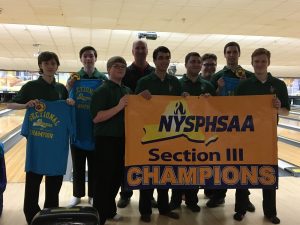 Boys Division 2 and Class 'C/D' – Little Falls