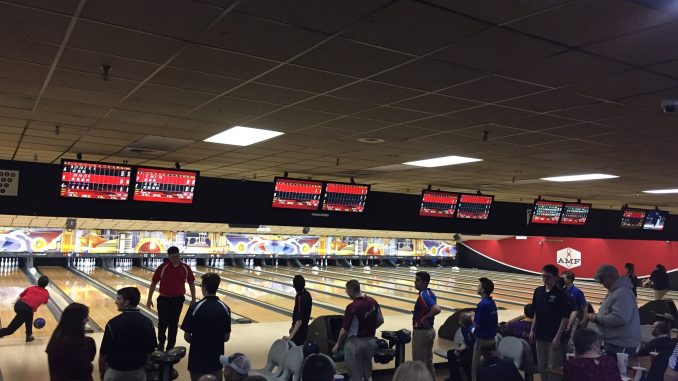 Alexis Ingersoll from Fulton opened with a 257 game, and led the girl's field wire to wire and was the winner of the 2018 Section 3 Shootout in the Girls Division with an 1195 six-game pinfall.  Kaylee Hodson from Auburn finished 2nd with 1141.   Both Ingersoll and Hodson have secured roster spots on the Section 3 girls composite team.
For the boys, EJ O'Melia from Indian River was the surprise winner with a six-game total of 1254.  EJ closed strong and surged to the lead with a 237 6th game and final game, edging out 2nd place finisher Cloonan from Cicero-North Syracuse.   Cloonan finished with a 1246 series.
See Complete Results from the Shootout Event.
The composite teams compete representing Section 3 on Saturday, March 10th at the OnCenter.  The final rosters are:
[table caption="BOYS SECTION 3 COMPOSITE TEAM" width="750" colwidth="170|120|170" colalign="left|left|left"]
Name,School,League
"O'Melia, EJ","Indian River","Frontier League"
"Cloonan, Timmy ", "Cicero-North Syracuse", "SCAC"
"Elliot, Kaleb" , "Sauqoit", "CSC"
"Carson, Eric", "Oswego" , "SCAC"
"Bechtel, Bryce" , "VVS" , "TVL"
"Hinshaw, Nick" , "Homer" , "OHSL"
 [/table]


[table caption="GIRLS SECTION 3 COMPOSITE TEAM" width="750" colwidth="170|120|170" colalign="left|left|left"] 
Name,School,League
"Ingersoll, Alexis","Fulton","SCAC" 
"Hodson, Kaylee ", "Auburn", "SCAC" 
"Guernsey, Megan" , "Fulton", "SCAC" 
"Doris, Megan", "Clinton" , "CSC" 
"Birdslow, Jessica" , "Solvay" , "OHSL" 
"O'Herien, MacKenzie " , "VVS" , "TVL" 
[/table]